Q&A with Myron Mixon
Aug 31, 2022, 19:12 PM
Myron Mixon is called "the winningest man in BBQ" for his record five wins at the World Championship Barbecue Cooking Contest, "Memphis in May'. Taking competition barbecue to the next level, Mixon has won more than two hundred grand championships resulting in over 1,800 total trophies, 30 state championships, eight Team of the Year awards and 11 national championships.
A regular on network TV shows like "TODAY", "Good Morning America" and "Fox & Friends", Mixon is a competitor-turned-judge of the Cooking Channel's "BBQ Pitmasters" and a New York Times best-selling cookbook author. He also owns two Myron Mixon's Pitmaster BBQ restaurants in Old Town Alexandria, VA, and Hoboken, NJ. And he is the four-term mayor of his hometown, Unadilla, GA.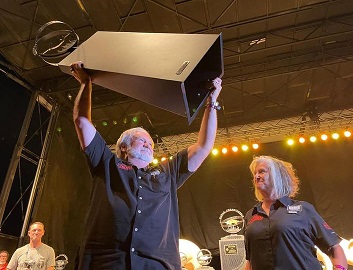 Mixon will headline the Fall Atlanta Home Show at the Cobb Galleria from September 9 through 11. He will take the stage on Friday, September 9, showing his audience how to make his award-winning brisket – yes there will be sampling – and signing autographs. His cookbooks will be available for sale. The first 25 in line get a free book and autograph.
We caught up with Mixon as he was reviewing the production of his Myron Mixon Smokers manufacturing facility in St Louis.
Question: What tool should every home chef own?
Mixon: The most important tool for a home chef is a meat thermometer. When you are cooking a protein, whether it's in the oven or on your grill or smoker, you have to check the internal doneness of the meat, poultry or fish. I can't compete without one and I do not cook in my kitchen without one, either.
Question: You are overseeing the production of the Myron Mixon Smokers today. Tell us about these smokers that you designed.
Mixon: You've got to have smoke to have a barbecue. After more than twenty years of competing in barbecue events, I realized that I needed to design smokers to my exact specifications, so I created Myron Mixon Smokers. I've designed Pellet, Gravity, H2O and Commercial smokers to accommodate the style of most every home or professional pitmaster. I particularly like the H2O smoker because the water system tenderizes and smokes the meat at a lower temperature for many hours. The end result is delicious. Folks coming to the Capital Home Show can ask me about all my grilling and smoking secrets.
Question: What is your favorite spice to work with?
Mixon: Turmeric. It is the spice I love to cook with. I use it in all my barbecue rubs and sauces. It's an old-fashioned favorite.
Question: Which cooking celebrity would you most like to work with and why?
Mixon: I have two in mind and they've both passed on. The first is The Galloping Gourmet, Graham Kerr. My family lived with my grandmother until I was nine years old. She and I used to sit on the couch in her living room and watch that TV show. I was fascinated by him. Also, every Saturday night we would sit on that couch and shell butter beans while we watched the Laurence Welk Show. I remember it but it did not have the same influence that The Galloping Gourmet did.
The other cooking celebrity I would have liked to meet is Justin Wilson, the famous Louisiana chef. To me, he defined Cajun cooking, but he also showed that his Southern cuisine, what we call Country Cooking, was important way beyond Louisiana. I'm from Southern Georgia and the spices my grandmother taught me to use are different than Wilson's, but the style of cooking was the same. It's comfort cooking. Justin Wilson was talking about "farm to table food" long before it became cool.