Cint Harp On Atlanta, Against The Grain & A Little Show Called Fixer Upper
When the Atlanta Home Show returns to the Cobb Galleria Centre for its fall edition September 10-12, 2021, it features a back-by-popular-demand appearance from Atlanta native Clint Harp, best known from HGTV's smash hit show Fixer Upper with Chip and Joanna Gaines. Clint will share his top tips, behind-the-scenes show secrets and speak with guests on Friday, September 10 and Saturday, September 11.
Before he arrives in town (his first stop? The Varsity), we talked to him about all things woodworking, what's next for him with Chip and Joanna Gaines and his Atlanta faves.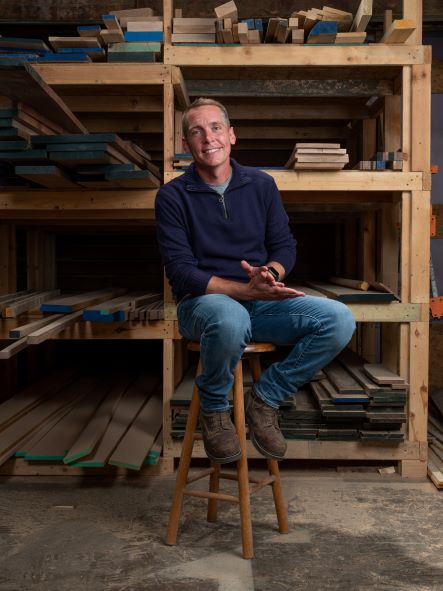 On Woodworking
Q: As someone who always dreamed of being a wood worker, what is it about building furniture that appealed to you? I think all of us have creative muscles inside of us…we don't all use them, but they are there! I'm wired to work with my hands, to create, to sweat, to love working with raw material such as wood. Working with wood, building things…I'm using all the creative muscles inside of me that are begging to be used!
Q. When budget is no object, what is your favorite wood species to craft furniture with? Anything antique for sure!! Old growth wood is the best…really old white oak has a look to it that just cannot be created in a "faux" type of way. Companies that have torn down old structures and kept all that old growth wood are my favorite places to shop for lumber. And if I just have to work with some teak -- well I'm pretty happy about that too!
On Family
Q: Why is the family table so important in a household? To me it represents a place where people can gather and listen, talk, share an experience together, share about their individual experiences, laugh, cry, dream, struggle, and ultimately come through things. If we use the table for that, and meet there regularly, we earn a sacred space in each other's lives that can't be achieved by running around and never slowing down to take a pause and really connect.

Q. What do suggest as a great intro project for getting kids into working with DIY wood projects? During the pandemic, Kelly and I jumped in the yard and built a bunch of raised bed gardens with our kids. Such great time with our little fam of five! But don't start with that!!! Ha! While we were building the gardens, my two daughters and my son grabbed scrap wood and asked if they could make a small table with little benches. Seriously the simplest thing! And they felt so proud and wanted to do more. So start simple. Don't worry about fancy joinery and all that…just screw some boards together and make a little bench and table to sit on outside and see what you think. If you had fun, do it again and get more complicated and intricate at your own pace!
On What's Next
Q. What's next for you on Magnolia Network?
The first season of my show Restoration Road with Clint Harp is continuing to roll out as we speak…and while it does, I'm actually out filming season two as well. We're traveling the country going to fun new places and learning more history. I can't wait for everyone to see it. And of course, we're all getting ready for the Magnolia Network to take over the DIY Network in January which will bring my show, and all the others, to the screen for those that haven't been streaming them already through Discovery Plus.

On Fixer Upper
Q. What question do you get asked the most about Fixer Upper? Or a certain episode people always want to know about? People always want to know what my favorite project was, or what it was like to work with the Gaines'. Simply put, it's hard to pinpoint one favorite as they all hold such unique memories and were such an important part of my life at that time. And working with the Gaines' is and was a blast!
You never know what to expect from Chip which makes life exciting and the guy just wants to do good things which I love. And Jo is one of the absolute best designers in the world…and she asks ME to make furniture for her! I'm incredibly honored and thankful for that…and also so glad that almost a decade later we find ourselves working on a whole new adventure pressing toward a common goal of telling stories and hopefully bringing a lot of encouragement and inspiration to the world.

On Atlanta
Q: As a former Atlanta-resident, what were the top 3 places you always took visitors in the city? Now when I bring people here, it's the most important people….my wife and kids!! The Zoo, the Aquarium, and anything to do with the rich civil rights history here are the top destinations we want to visit as a family as soon as we can. And of course, being huge Falcons and Dawgs fans….a game at the Benz and also up in Athens are on our bucket list right now!

Q: What are your "go to" Atlanta restaurants when you make it back to town? Well first of all, The Varsity for sure! Atlanta is really a culinary exploration for me as I really became a "foodie" much later in life. Some of my fave places growing up aren't even open anymore!! Ha!! So every time I come back I'm always looking for new places to go…suggestions are welcome!

Q. What additions to Atlanta since you lived here are you most excited about? Atlanta has grown into such an energetic, creative, and diverse town and one that is leading in many wonderful ways in very tough times. I'm so proud of my city and for the fact that this is literally where my journey began. So much craft is sprouting up, urban farming, culinary experiences, and a community of folks who really care about this city which has undoubtedly produced some of the most influential voices for love and equality that our world has ever seen.
You can give Clint your restaurant recommendations in person at the
Atlanta Home Show
, visit the
show info page
for times, tickets and more information.
Aug 27, 2021, 14:03 PM